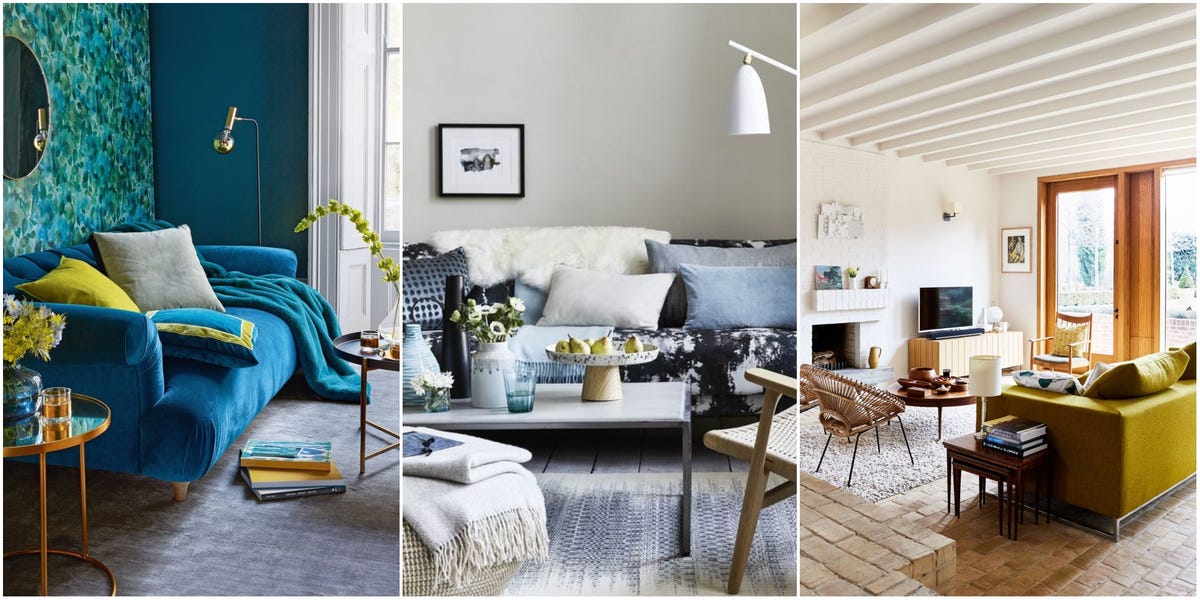 Decorating your living room? We've compiled 50 gorgeous living room ideas to use as a starting point for your next decorating project. From decor to design to furniture, if you're looking for living room inspiration you've come to the right place. You can also shop similar looks with our top suggestions.
Relaxed layering
Keep it contemporary yet pared back by teaming drips, drops and splatter patterns for an impressionistic look.
Read more: 6 stylish inky blue interiors
5 of 50
Small change, big difference
A simple Roman blind and textured flooring has resulted in an elegant update for this neutral living room.
• Modern, traditional or shaggy, Modern Rugs has a great selection for your floor.
*We earn a commission for products purchased through some links in this article.
6 of 50
Naturally laid back
White walls, soft grey upholstery and pale wooden furniture create a relaxed and welcoming look. Choose a classic sofa as the centrepiece, then introduce pattern with a mix-and-match collection of patterned cushions and a geometric rug.
• Head to Dunelm for a range of cushions at an affordable price.
10 of 50
Bold florals
A vibrant floral wallpaper defines the accent colours in the rest of this room. The soft sage green on the plush sofa and petal pink on the armchair, each with sleek black metal legs, complete the cohesive, contemporary look of this living room.
Read more: 9 bold floral home decor ideas for an instant room update
12 of 50
Rethink pink
Pink is still a huge interiors trend. Layer soft rose with grey, choose a classic sofa as the room's focal point and introduce pattern with decorative cushions and a rug. Contrast the soft colours with a statement floor lamp and coffee table.
13 of 50
Opposites attract
Vintage sofas bring an elegant feel in this Victorian home. Promote a sense of intimacy in an open-plan or big room by arranging seating around a coffee table with a rug beneath. The aim is to create a cosy zone within the space.
• If you want a statement coffee table, head to Amara for some lust-worthy designs.
17 of 50
Pop of colour in small spaces
In a small lounge area, a tactile velvet sofa in a golden shade and compact, rounded shape provides impact. Meanwhile, fringed and patterned cushions add individuality. Combining these tactile textures provide sumptuous depth, particularly useful for elevating small spaces.
Read more: 9 stylish ways to introduce ochre into a neutral space
19 of 50
A new dimension
A corner sofa, such as this leather Freya from DFS, can help to give shape to a featureless room. A console table arranged with tall vases is a clever idea that gives the scheme height.
• Shop the House Beautiful collection at DFS.
21 of 50
A country tale
This classic country style scheme is made relaxed and informal with a squashy sofa and chairs, neutral colours and natural textures. The gilt-framed mirror and glamorous table lamps add a touch of elegance to the look.
22 of 50
Artistic palette
Turn your living room into a masterpiece with painterly patterned fabrics, arty effects and a palette of soft colours. Choose fine cottons, linens and silks printed in washes of colour as a starting point for your scheme. Team highly decorative pieces with streamlined furniture for a perfect balance of form and function.
• Dress your home in faux flowers – shop some beautiful designs at John Lewis & Partners.
23 of 50
A sense of space
Soft grey tones and crisp white details bounce light around this contemporary living room. Pale wooden furniture also helps to keep the room looking bright and airy.
• If you always forget to water plants, buy artificial ones instead. Shop a range on Amazon.

26 of 50
Dark style
Moody greys and burnt orange tones create a welcoming, modern scheme. Offset a dark wall colour with sumptuous textures such as a wool upholstered sofa and a stylish chair in burnished leather.
27 of 50
Pattern play
The key to this colourful look is to layer intricate pattern on pattern while keeping the backdrop understated. Spots, stripes, ikat prints and colour block all work together beautifully when united by a harmonious palette.
28 of 50