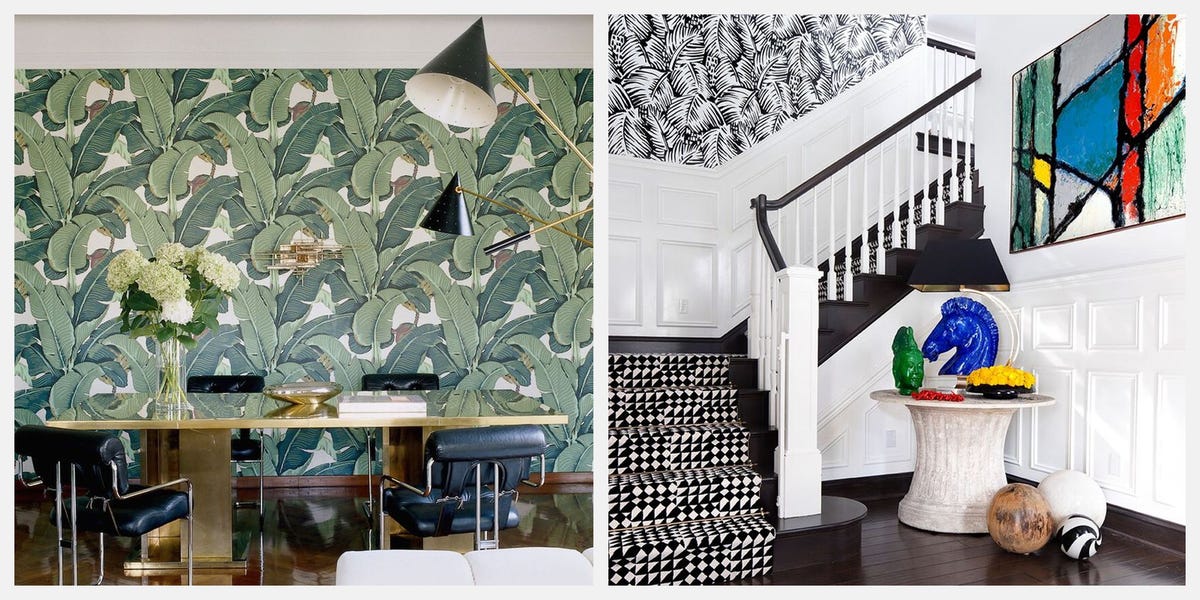 Courtesy
From fashion to design, color, and more, it seems like trends come in and out of style before we get a chance to enjoy them. And while fads may be fleeting, they are a marker for great style, often living out—to some degree—longer than their time in the spotlight. January 1st has come and gone, but there's still plenty of time to indulge in new looks.
To help you make sense of the year's best design crazes, we asked some of our favorite designers to share the trends that are IN—and OUT—this year.
IN: Bouclé
"We are seeing this pop up more and more in great upholstered pieces and from our favorite fabric showrooms. This great fabric adds a dramatic texture and turns a drab piece into something a little more exciting. Also, it is so cozy!" —Allison Petty of Hyphen & Co.
1 of 54
OUT: Leather
"We will always love the LOOK of leather, but we are leaning more and more towards more sustainable options. Phil Doux is a fantastic company that creates a sustainable vinyl alternative that looks and feels like leather (we swear)."—Allison Petty of Hyphen & Co.
2 of 54
IN: Palm Imagery
"Whether embroidered on a pillow, perched askew in a vase, or replicated on wallpaper, palm imagery is a major trend right now. The look is lush, natural, warm, and most importantly, versatile. With palms, your surrounding design can be opulent and raised to the heavens or more down to earth, an organic oasis."
—Rayman Boozer of Apartment48
3 of 54
OUT: Hygge
"Hygge, the Danish word defined as 'a quality of coziness that causes a feeling of well-being' has been used and abused the past two years. While the idea is a beautiful element of Danish culture, it was never intended to be a trend or obsession. The proper way to embrace the idea is to explore what elements of design genuinely inspire and relax, because simply throwing an alpaca fur on a chair will not suddenly induce a peaceful way of life."—Rayman Boozer of Apartment48
4 of 54
IN: Layered Landscapes
"A layered landscape in the scale and height of our furnishings is in in 2019. We look for a standard 18" seat height in key seating pieces and try to provide accompanying accent tables and lighting that are scaled appropriately. Lamps that are tall enough to cast light over a shoulder and taller cocktail tables add to a heightened and more refined environment." —Janie Molster of Janie Molster Designs
5 of 54
OUT: Low-Profile Furniture
"It's time to get off of the floor. We have had our moment with low slung mid-century seating (too many bad knock-offs) and groovy shaggy rugs. Lower seating heights create the need for squatty side tables and lamps." —Janie Molster of Janie Molster Designs
6 of 54
IN: Curved Sofas
"We're noticing more and more living rooms with non-traditional sofa shapes that are designed for conversation and hosting guests—and we are loving it!" —Caroline Grant of Dekar Design
7 of 54
OUT: Living Rooms Focused Around a TV
"We've noticed that living rooms that are designed with traditional sofas that are spatially focused around a TV are out in 2019."—Caroline Grant of Dekar Design
8 of 54
IN: Experiential Design
"Not all clients know exactly what they want until they experience it. Elevating the experience of design for our clients where we invite them to explore all senses is definitely IN this year, and will be here to stay. We want our clients to truly 'feel' the design they love and yearn for when they come home after a long day's work, which ultimately helps them decompress and truly enjoy being home that much more quickly. Hitting all the senses is the way to do this, and augmenting the design process to be experiential is how you get there." —Becky Shea of Becky Shea Designs
9 of 54
OUT: Funky Patterns
"We get it: There's something fun about bringing back very out there designs from the days of yore. However, there's a reason those design styles (ex. heavy repeating print wallpaper, bright and wild colors) fell out of favor and were retired. Stick to timeless design in neutral tones and you'll thank yourself a decade—or three—from now." —Becky Shea of Becky Shea Designs
10 of 54
IN: Natural Textiles
"I suggest using wools, cotton, linen, alpaca, or leather in your design scheme. These materials are healthy, cleanable, breathable and they age beautifully." —Liz Caan of Liz Caan & Co.
11 of 54
OUT: Industrial Materials
"I think the trend to use outdoor and indestructible materials is not always the best for interiors. Frankly, houses and materials should patina and show signs of life. Nothing is more cleanable and resilient than natural fibers."—Liz Caan of Liz Caan & Co.
12 of 54
IN: Custom Oversized Nighstands
"Custom oversized nightstands are a new trend we're seeing make a comeback, especially as they complement some of the larger headboards that are popular. Oversized bedside tables help create balance with the dominating headboards and has the added bonus of providing extra storage." —Wendy Hammerman of WLH Interiors
13 of 54
OUT: Gallery Walls
"In terms of design elements we're seeing a lot less of, I think gallery walls have given way to using a large-scale piece of art, hung or otherwise, that helps make a statement. While gallery walls added a personal touch to a space, they also introduce a sense of clutter and scattered images. A single design element, like a striking, tall painting is what we're seeing replacing gallery and accent walls."—Wendy Hammerman of WLH Interiors
14 of 54
IN: Tester Canopies
"Traditional design elements are back in a big way, along with plenty of fabric and texture. A tester canopy adds drama to a bedroom and is one more opportunity to add layers of fabric."
—Marika Meyer of Marika Meyer Interiors
15 of 54
OUT: Hotel Suite-Style Master
"The master bedroom that feels like a hotel suite is definitely out in 2019. Everyone used to ask for the neutral bedroom with white hotel bedding so they could feel like they were in a luxury hotel suite. Now those rooms feel devoid of character and color. In fact, hotels are on to this trend and are making their best suites feel more residential." —Marika Meyer of Marika Meyer Interiors
16 of 54
IN: Biophilia
"For 2019, there is greater interest in biophilia–emphasizing the relationship between humankind and nature, and the connections between the two. Natural, organic materials–such as wood floors, stone, and daylight and plant life–remind us of the exterior and brings the outside and nature, in. We are machine- and technology-driven society, but nostalgic about past processes and handiwork, so opportunities for custom millwork and crafted materials are very important."—Angie Lee of FXCollaborative
17 of 54
OUT: Gendered Rooms
"For me, an out trend is gendered traits assigned to motifs and concepts in design. For instance, insecurities about girly versus macho color palettes, textures, and shapes tend to dampen creative potential and reinforce hidden biases. I love that Pantone's Color of the Year for 2019 is Living Coral, because its choice trumpets universal emotional responses to nature, while being unapologetically joyous about a traditionally feminine hue."—Angie Lee of FXCollaborative
18 of 54
IN: Memphis Design
"The Memphis movement is overtaking midcentury modern as the furnishing and color selection du jour. Primary colors and graphic shapes haven't seen this much action since the eighties. Also in our space planning we are turning away from straight, rigid furniture lines and choosing enveloping tub chairs and Vladimir Kagan-esque curved sofas."—Carolyn Pressly of Carolyn Pressly Interiors
19 of 54
OUT: The L.A. Cafe Look
"Blush walls, brass pendant lights, and concrete accent flooring are all great—just not all at once please. This look was so widely circulated—the pitfalls of Pinterest!—that it is past overdone." —Carolyn Pressly of Carolyn Pressly Interiors
20 of 54
IN: Feminine Tones
"Colors I see in for 2019 are blush, dusty pink, and bronze. Warm colors and feminine tones for on the walls and dashes of soft pinks to break up expanses of taupe or neutrals will instantly update a tired room."—Katharine Pooley of Katharine Pooley London
21 of 54
OUT: Statement Upholstery
"Statement single piece upholstery–especially in jewel colors–will be out this year. Finishes should completely envelop the space and generally be textural rather than patterned for a chic modern look."—Katharine Pooley of Katharine Pooley London
22 of 54
IN: Maximalist Art
"The dominance of minimalism and Scandinavian design, which is characterized by neutral colors and simple materials, is finally declining. In its place, bright colors and graphic patterns are becoming more prevalent in the home. Don't be afraid to mix colors, patterns, and textures. Take a gallery wall to the next level by having it cover an entire wall, or add a dramatic, large-scale piece to your space. In this case, more is more."—Sandra Chandler of Art.com
23 of 54
OUT: Minimalist Art
"Like gray, consumers are getting bored of sterile, minimalist spaces. The clean edges and uniformity of Scandinavian design are making way for more organic shapes and bolder colors. The direct response to this is maximalism, which is the infusion of personality into a space. Instead of worrying whether your art matches your furniture and your wall color, try thinking about what you really love and hanging that your room."—Sandra Chandler of Art.com
24 of 54
IN: Floral fabrics and wallpapers
"The traditional beauty of floral patterns, either abstracted or straight up chintz, will be the pattern to use." — Erin Gates of Erin Gates Design
25 of 54
OUT: Ikat and trellis patterns
"The reproduced to death geometric trellis patterns and ikats will make your room look dated." — Erin Gates of Erin Gates Design
26 of 54
IN: Rich jewel tones with an edge
"Right now, I am loving deep, rich jewel tones with an edge. Bold indigo, hunter and emerald green, and dark teal all feel ready to have a moment outside of the kitchen. We're layering living rooms, dining rooms and bedrooms with paints, fabrics, accessories, and rugs in these colors to create drama against a backdrop of white architectural elements." — Jeff Andrews of Jeff Andrews Design
27 of 54
OUT: Cool Grays
"I'm moving away from the cooler, gray tone neutrals right now in favor of stark white and warmer neutrals." — Jeff Andrews of Jeff Andrews Design
28 of 54
IN: boldly patterned backsplashes
"Simple, monochromatic kitchens have had a good long run, so we will be gravitating toward making a little more impact in their kitchens, whether that's with bolder color choices or graphic tiles. Either way, I predict we will be seeing more pop and punch in kitchens!" — Amy Sklar of Sklar Design
29 of 54
OUT: Terrazzo Tile
"I would tread lightly with the terrazzo trend. It is a lot of look, and if you tire of it, it's not an easy fix (especially floors!)." — Amy Sklar of Sklar Design
30 of 54