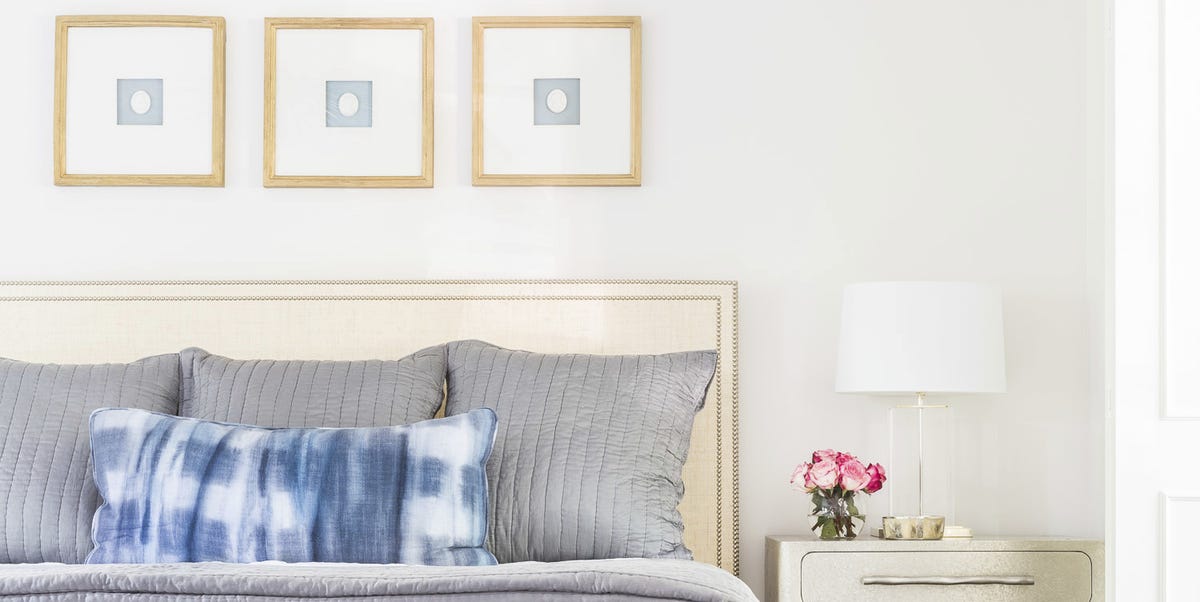 Alyssa Rosenheck
We're willing to bet you spend the most time in your bedroom out of any other space in your home. However, it can be hard to decorate a master bedroom that hits every note — a calm, organized retreat that helps you sleep without sacrificing your personal style and aesthetic. Follow these simple tips to nail a master bedroom makeover without spending a ton of time or money.
Decorate Your Bed
Start with a colorful frame, pile on the pillows, and hang a crafty pom-pom garland!
1 of 57
Find Inspiration Outdoors
A repurposed barn door adds texture and interest to this rustic bedroom retreat. Use reclaimed wood as your starting point to create a one-of-a-kind piece, adding lights for reading. How farmhouse chic!
2 of 57
Fill with Greenery
A vibrant palm leaf acts as a piece of artwork in this beachy bohemian room.
3 of 57
Think Global
A vintage map makes a great (and inexpensive!) focal point for this simple bedroom. Shop local thrift stores and markets to find one-of-a-kind pieces.
4 of 57
"Commission" a Scenic Mural
Forget hiring an artist for the job — you can now pick from dozens of styles of large-scale peel-and-stick landscapes and patterns.
SHOP MURALS
5 of 57
Double Up on Rugs
Layering matching rugs on top of wall-to-wall carpeting defines each bed's space while adding another layer of color and pattern to the room, explains designer Bria Hammel.
SHOP RUGS
6 of 57
Swap Out Hardware
Give your existing dresser or bedside table a mini makeover with new knobs. (Some fancy pulls might inspire you to put things away faster too.) 
7 of 57
Paint an Accent Wall
Bedrooms should be a place to relax, but that doesn't mean they have to be boring. Designer Dan Mazzarini wasn't shy about incorporating a bold, orange-red backdrop.
8 of 57
Try on a Trend
A throw pillow is a low-commitment and low-investment way to see how you like the latest styles and materials (like velvet!) rocking the home decor world. To save a few dollars, keep the same inserts and buy pillow covers to swap whenever you want.  
9 of 57
Try a Daybed
In this bedroom designed by Emily Henderson, a daybed is the perfect solution for seating and a place for Mom and Dad to nap. Try one in your own master for a luxurious update.
10 of 57
Invest in a Pretty Hamper
Finally tackle your habit of leaving clothes on that chair with a gorgeous hamper you'll want to leave out in the open. This version includes a lid so dirty clothes are out of sight, out of mind. 
11 of 57
Bring in Flowers
A floral painting, pillow, or even a vase filled with a few blooms instantly freshens any space.
12 of 57
Go with a Luxe Sheet Set
There's nothing better than falling asleep on clean, fresh sheets. Upgrade your set with Brooklinen's luxe core sheets. They got high marks in our testing for tear-and pill-resistance and minimal shrinkage. 
13 of 57
Follow the Rule of Threes
Try this trick from designer Mel Bean to fill up space when you can't afford big pieces of art: Hang multiple, uniform-sized picture frames, with simple artwork, side-by-side above your bed.
14 of 57
Bring in Baskets
Keep a basket handy to wrangle throws, spare pillow, or books and magazines. An organized bedroom is a happy bedroom!
15 of 57
Lay Down a Woolly Rug
You don't need slippers when there's a super-soft carpet underfoot. Keep extra throw blankets in a woven basket by the bed for even more cozy texture.
SHOP RUGS
16 of 57
Paint the Floors
If you've got a case of lackluster flooring, bring on the paint. Bright blue planks paired with white walls flip the usual decor combo in this bedroom.
17 of 57
Try Cement Plant Stands
Add some more green to your space with mod planters. Our easy-to-grow favorites to set inside: pothos, aloe, and ZZ plant.
18 of 57
Paint the Ceiling
Extending paint from the walls up onto the eaves and overhead makes this top-floor room extra cozy. The blue hue and yellow bedding prove opposites attract too.
20 of 57
Mix Interesting Neutrals
To add personality to a neutral bedroom, bring in texture, advises interior designer Sarah Sherman Samuel. "You can layer in decor pieces in a variety of fabrics and materials form the floor up to the walls to give any space dimension," she says. "I love working in materials like wood, leather, wool, and sheepskin."
RELATED: 50+ Inspiring Living Room Decorating Ideas
21 of 57
Swap Out Your Curtains
Change your view (at least inside) by swapping in new curtains. Make sure your new panels are long enough to just hit the floor or sill, and pick ones at least twice as wide as the width of the window.  
22 of 57
Fake a Headboard
Make over a basic bed frame with this cheap trick from Paper & Stitch. Use painter's tape and a level to mark a rectangle on the wall, apply two coats of paint, then peel tape away. Sweet dreams!
SHOP PAINT
23 of 57
Hang a Gallery Wall
Here's a tip on laying it out perfectly: Start by gathering the art on the floor to find the perfect arrangement, says HGTV's Nicole Curtis. Then snap a photo with your smartphone. Trace each frame onto a piece of paper and cut it out, using a level and painter's tape to test the cutouts on the wall before you hang.
25 of 57
Luxe Touches
It's your space, so go all in with a richly upholstered headboard, wooly sheepskin rug, and cozy accents that make it feel like a true retreat.
SHOP SHEEPSKIN RUGS
27 of 57
Swap Out Your Nightstand
With a floating shelf as a bedside table, you can save crucial space in a small bedroom.
SHOP SHELVES
29 of 57
Try Matching Frames
Metal hanging frames make it easy to swap in new photos, mementos, and artwork when you're ready for a change of pace.  
30 of 57