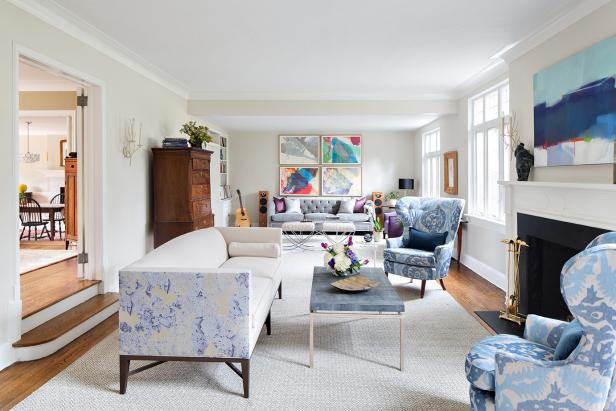 Rearrange the Furniture

For the least expensive update of all, just work with what you've got. A new furniture arrangement will do wonders in updating your living room's look and functionality. Grab a friend and start moving pieces around until you find an easy-to-flow arrangement that's ideal for conversing or watching movies. Don't forget to "shop" other rooms for pieces that might be just-right for your new living room. 
Create Eye-Catching Vignettes

Try this simple update without spending a dime. Round up like-colored accessories to create a pleasing vignette on your coffee or console table. Grouping similar accessories together makes them feel like a collection and yields a bigger design impact. 
Declutter Your Bookcases

A completely free way to update your living room: Style your bookcase. Remove everything and consider which pieces you really love. Start by grouping stacks of books, some vertically, some horizontally; then add in accessories and artwork. Use small groupings and combine items in varying sizes, colors and textures for a truly eye-catching display. 
Light It Up

Consider adding new light fixtures to brighten up your living space. Whether a glamorous chandelier or simple recessed lights, the right lighting is key to showing off a beautiful design. Here, designer Beth Bourque hangs a nickel light fixture beside the sofa for a much-needed reading light. 
Perfect Your Palette

Narrow your color scheme. Take an inventory of your living room, determine your three favorite shades, then edit. By choosing a simpler palette, the design is more dynamic. After you've edited, see if the room needs a few more accessories to highlight your new scheme. Go shopping, but remember to buy only what you truly love.
Add Color With Art

Make a colorful splash with a gallery wall. Artwork can be expensive, but if you're looking for a more budget-friendly option, try websites like 20×200.com, society6.com and Etsy.com. Here, designer Sarah Richardson uses a mix of abstract prints in a variety of hues from the living room's color palette to create this impressive display.  
Swap Out Pillows

Get a lot of bang for your buck by changing out your throw pillows. Same room, same sofa, but now, with a brand new look. Mix pillows in a variety of hues and prints to create visual interest and texture. 
Get Ready to Party

Bring a glam element to your living room with a sophisticated bar cart. Not only does it add style to the space, but it's also perfect for entertaining. Stock the cart with your favorite spirits, glassware and mixers. Add a vase of fresh flowers and you'll be ready to party at a moment's notice. 
Update Worn-Out Furniture

If a piece of furniture, like a coffee or end table, has seen better days, transform it with a fresh coat of paint or stain. A high-gloss paint treatment is a great choice for a contemporary space, or try a distressed treatment, like the one designer Joanna Gaines used in this cottage-style living room.
Update the Doors

If floor space is an issue, consider switching out a traditional swinging door for a sliding barn door. Not only does a barn door save space, its rustic look also adds a fun architectural element to even the most builder-basic living rooms. 
Start From the Ground Up

Change out what's underfoot. Area rugs can be a large investment, but with some smart shopping, you can transform the look of your floor with a great deal. A neutral rug with a graphic pattern, like the one designer Allison Lind chose here, will be in style for many years to come. 
Brighten Up With a Small Update

An easy way to add a designer touch to your living room is a new pair of lamps. On trend, but classic, mercury glass table lamps have an Old World glamour that allows them to fit in with most styles, from contemporary to traditional. 
Find a Focal Piece

Salvaged architectural pieces, like these antique windows, make a dramatic decorating feature and add a personal touch to the living room. The rustic quality of the piece is highlighted by simple, vintage accessories, like pretty blue bottles, tall Mason jars and books. 
Get Wordy

Personalize your living room with a fun saying. For this inexpensive update, look for wood, chipboard or cardboard letters at craft stores, then cover them in patterned scrapbook paper, pretty gift wrap, leftover wallpaper or vintage maps.  
Freshen Up the Furniture

Revive your living room by reupholstering a tired piece (or two) of furniture. Hiring a pro to do the job for you can get pricey; consider slipcovers as a money-saving solution. In this sunny living room by designer Judith Balis, a pair of low wingbacks covered in turquoise fabric adds a cheery pop of color.  
Treat Your Walls

A subtle, yet stylish design update is a chic wall treatment. Patterned wall panels add tactile appeal to this living space, making the room feel more inviting. Designers Amy Bubier and Tor Barstad painted the panels an elegant white to highlight the colorful furniture and pillows.  
Paint It White

Give a tired or dark living room, a bright and airy facelift by painting the walls white. Here, the paneled walls painted white give the space a coastal cottage look. Curvy, sophisticated furniture paired with a glamorous chandelier add feminine charm to the space. 
Add a Sense of Play

For a high-end budget, look for a furniture piece that truly stands out. This open-concept living space has a swing-style daybed, suspended from the ceiling, adding an element of fun and whimsy. 
Create a Custom Look

Take your living room to the next level with a custom built-in. Here, designer Dahlia Mahmood creates built-in banquette seating for this ultra-sophisticated living space. A soft neutral palette, warm textures and a curtain of crystals behind the banquette evokes instant ambience. 
Start From Scratch

If your budget allows, go for a complete makeover. Start with a neutral base — selecting all your permanent pieces, such as sofas, chairs and tables, in go-with-anything neutral shades. Then, add in color and style with pillows, framed artwork and accessories. Here, designer Joel Snayd uses a gray-and-white color palette to set the tone for this contemporary farmhouse living room. He brings in the glam with all the pieces that can be switched out later, like the floral-printed stools, colorful bolster pillows and eclectic mix of accessories.