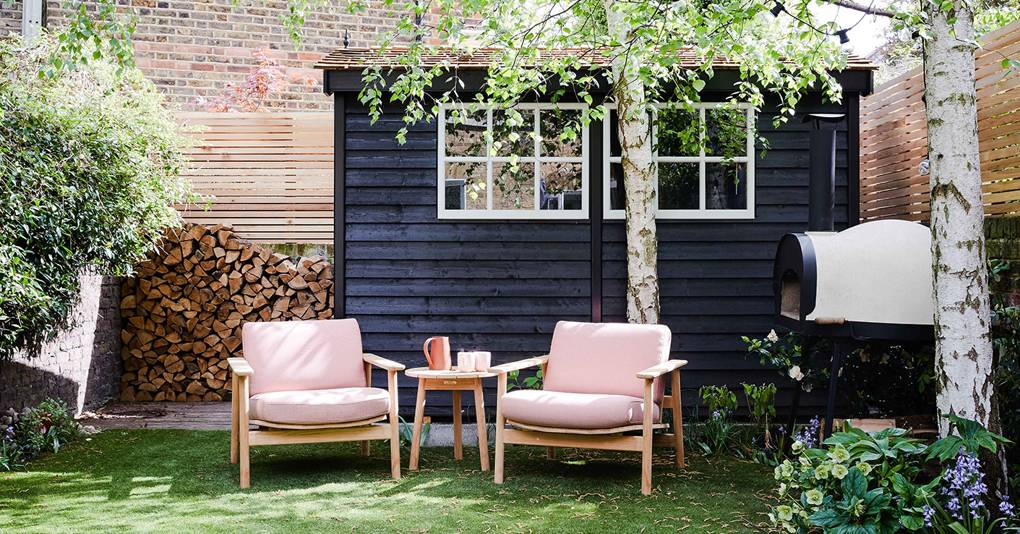 A small garden is a blessing, a patch of your own outdoor land to turn into a sanctuary. All you need are some brilliant examples from the House & Garden archive and advice from the experts and even the most petite patio can become a space to be proud of. Fancy foliage, pretty pots, clever planting and inviting accessories – all the design ideas you need are right here. Whether it's a tiny balcony, city garden or sliver of lawn you have to play with, and whether you want a country garden feel in the city or something a bit more sleek and modern, you can transform it into a green wonderland with these inspiring examples.
When it came to her garden, decorator Sarah Vanrenen added a feature fireplace as the focal point for summer nights. She kept the garden neutral – full of greens and stone – to maximise the space.

The founder of JamJar flowers knows how to create a beautiful garden, even in a small space. This garden at her Brixton house has a romantic, countryside feel thanks to furniture gathered from various antiques markets.

In the garden of Henrietta Courtauld's 1850s London terraced house, yew balls surround the main bed, which is planted with vegetables, Melianthus major and Hydrangea arborescens 'Annabelle'. Among the small but thriving vegetable garden is room for a small shed which works as a studio space. Beyond this vegetable patch is a communal garden that has been a labour of love for Henrietta who is one half of the gardening duo the Land Gardeners who run a thriving flower garden based at Wardington Manor in Oxfordshire.

Curator and potter Joanna Bird has turned her garden into an exhibition space, where modern sculpted ceramics meet calming evergreens. In the foreground is a bed of blue and mauve plants, including alliums and perovskia.

Sussy Cazalet Design were asked to create an organic, mystical, jungle inspired space using natural and organic materials that soften the glass extension opening onto this small garden. A bespoke designed lava stone table was installed, along with teal lava tiles wrapping around the seating area. The bamboo canopy was designed and built to feel natural and unobtrusive, with the hope in time to be completely overgrown with plants.

This west London garden belongs to designer Butter Wakefield and is filled with an abundance of geums, foxgloves, nepeta, roses and geraniums; a wildflower meadow sweeps across the centre of the lawn, which is handsomely framed by clipped box pyramids. Disguised behind a trellis is her workstation – apple crates overflow with knapweed, daisies and wild carrot and there are planters of orange, salvia and cow parsley.

The tiny courtyard at the home of the interior designer Helen Green comprises simple but elegant touches: a trellis of roses, a feature stone water plinth and plants potted in a variety of vessels, from wooden crates to wicker baskets and pewter milk pails.

In the hairstylist Sam McKnight's London garden, a path runs through proliferating borders of dahlias and other flowers – the perfect maximalist look for a small space.

In her London home, designer Bridie Hall has a tiny patio which she imbues with the idea of a country garden via verdant planting and a sweet mismatched bistro table and chairs.

Designer David Bentheim brings greenery to a wood-decked garden with potted plants of varying sizes, and uses shrubbery to give privacy from neighbouring eyes.

Two adjoining town houses were combined to create this modern Chelsea home. The buildings had an unusual formation in that they were each shaped around a courtyard garden in the centre. When the dividing fence between the two gardens was removed, the effect was to create a central courtyard in roughly the shape of a keyhole. This quirky feature has become the focus and defining element of the new layout.

This roof garden in west London was designed by Adolfo Harrison Gardens in collaboration with interior designers Maddux Creative. The design was based on the four classical elements of water, fire, air and earth which can be seen in the water-blade feature, bio-fuel fireplace, western red cedar and basalt stone cladding.

Built-in Corner Bench | Small Garden Ideas

The best thing about small gardens is creating cosy corners. In this small west London garden designed by Richard Miers Garden Design, a built-in bench is piled high with plump decorative cushions, and lit by lanterns at night, creating a pretty seating area. The flowers were chosen for their long length of bloom time.

Pergola perfection – we've found it in this wisteria-clad pergola installed by Sean Walter of The Plant Specialist. Hanging wisteria provides shade for the outdoor dining area, while striped cushions make this a stylish corner in the garden of a London flat designed by Charlotte Crosland.

Inspired planning of fenestration means that, from every aspect of the house, you have glimpses and vistas of this intriguing space, as well as several points of access to it. Seen from the other side, a kitchen garden has been created on the upper terrace.

Even a small decking area can provide a relaxing outdoor space. Make like Anna Spiro and her Brisbane house and employ sweet potted plants for a burst of life.

This collection of pots arranged in front of an outdoor mirror in the west London garden of interior designer Louise Jones brings a touch of the countryside to her city space. They are planted with a combination of white geraniums, cosmos and lobelia.

Jinny Blom's small city garden is a neatly walled space, replanted only months before this photograph was taken. Clipped box cubes contrasts with a clever planting scheme that mixes large-leaved exotic plants with cottage-garden favourites. A wide pond is traversed by a clever walkway.

Suzy Hoodless's low maintenance garden features Kettal's 'Riva' armchairs, designed by Jasper Morrison for outdoor use, on an AstroTurf lawn.

Wooden decking and box hedges are an instant winner when it comes to smartening a small space. Add a chic café table and chairs and we couldn't imagine a lovelier spot for breakfast.

This small roof garden features potted herbs on rustic shelves, which offer a fantastic way of maximising on space outdoors. For more inspiration, see our balcony & rooftop garden ideas.

Designer Jane Gowers discovered her London terrace house by chance, but its restoration and decoration have been the result of good judgement and a sympathetic approach.

Diamond pattern paving leads back to a shady seating area in the garden of a timeless townhouse in Bray decorated by Christopher Howe.

This chic Belgravia townhouse features a compact paved area with a large mirror to visually enlarge the space. Modern furniture is balanced by an abundance of climbing plants softening the walls.

An industrial-style glass and steel wall is all that separates the small patio garden and the living room of this Notting Hill home. The continuation is highlighted by the exposed brick wall that runs all the way through and the result is a light-filled living room and a view of an oh-so-inviting garden.

In this small townhouse garden the dining area is given a decorative backdrop with climbing foliage and simple window boxes.

The outside of Cameron Kimber's house in New South Wales is covered in charming clapboard. Gravel, generous tubs, and a lovely white bench come together to create a welcoming entrance to the house.

Grasses are planted in front of the original wisteria-hung loggia at this house designed by William Smalley, while a stone table makes a great permanent dining space.

This seating area in the courtyard garden of a Kent barn conversion was designed by Kate Gould.

Helen Fraser and Non Morris, founders of garden-design company, Fraser & Morris, haven't let space restrictions stop them from creating an abundantly green and wonderfully lush garden, complete with a beautiful fig tree. Think big, people.

This townhouse garden off Portobello Road provides a sanctuary from the bustling streets of Notting Hill. With the dining area situated on the roof terrace, the garden has been simply, symmetrically designed for pure visual pleasure. If you're unable to take your alfresco dining elsewhere, opt for fold-up or portable tables and chairs, which can be easily removed when you want your garden to function solely as a beautiful green space.

It is important to consider the size of the space when choosing your plants, says award-winning garden designer Marcus Barnett: 'Using light green, grey and silver foliage tend to make a space feel bigger while bolder, darker green foliage is best used in larger gardens as a foil for coloured planting.'

The brief for this Regent's Park garden, designed by Kate Gould, was a year-round green space with a 'hint of Portofino'. Neatly clipped buxus hedging, potted olive trees, lavender plants and a striking cobbled mosaic floor combine to create exactly this effect.

This city garden is party-ready. A bespoke barbeque is located a level down, near the kitchen, while the upper level features a basalt-clad fireplace and comfortable lounge seating. The combination of smart hard-wood flooring, the clean lines of the furniture and the Italian-designed lighting give the space a contemporary vibe.

The trick to making use of any small space is to consider how every inch might work practically. Here, a sheltered spot provides the perfect dining area (because, let's face it, alfresco dinners can often be interrupted by rain showers) and the Juliet balcony offers support to a rattan swing chair.

If you don't have much space, plant upwards. Jos and Annabel White's six-storey town house in Manhattan's West Village has window boxes full of flowers and trailing ivy framing the patio windows.

Architect Alan Higgs converted a Georgian pub building in London into a subtly modern flat for himself. He constructed this sleek roof terrace to maximise the natural light within his interiors. A line of pleached trees planted in pots softens his urban rooftop view. The white hydrangeas edging the decking are the perfect floral choice for any minimalist.

Louisa Jones developed a passion for David Austin roses when she was planning the garden of her Victorian cottage in south west London. She planted an arbour of roses to separate the patio and lawn of her country-style city garden.

Apple trees can make the perfect addition to small gardens. 'Choose dwarf-bush, spindlebush or stepovers for small gardens,' recommends the Royal Horticultural Society. This particular outside space surrounds antique dealer and decorator Max Rollitt's rural Hampshire house. Most of the land belonging to the farm was sold separately, but Max and his wife Jane bought 10 acres, as well as the farm buildings opposite the house.

A brilliant small garden design idea – the uber-pretty porch at this Dominican Republic hotel, painted in what the owner describes as 'faded bathing-suit colours', is furnished with a vintage macrame hammock and peacock chair.

In the modern scheme of this Victorian house, outdoor space has been created where there wasn't any with the addition of an internal garden, which divides the back sitting room and kitchen extension.

An inset seating niche in the formal courtyard garden at the front of the house by David Bentheim is paved in a variety of French stones from Exquisite Surfaces.

If you're lucky enough to have a brick wall, cover it in wisteria. If your wall is moderately tall the vines will quickly scale it and each year you will be rewarded with the most beautiful spring display. A perfect idea for an outdoor space without much space for planting.

The pretty shuttered doors leading onto the garden at the French country house of textiles designer Susan Deliss have been painted bright white. They look clean and fresh nestled amongst green foliage and vines that climb the walls of the house.

To make the garden feel bigger and create a calm backdrop for the creative planting, Garden Club London designed the fences to be clad in western red cedar, while reclaimed timber was used for the seating.

The small city garden of this Edwardian house follows the modern, functional style of the rest of the home. Topiary and an ornamental vase add interest to the neat design.

Small garden? Pot your flowers in buckets for a chic look. (Just remember to make drainage holes to ensure they don't drown.) This also allows you to protect them easily over winter.

The strict, geometric layout of Jinny Blom's small garden is reinforced by a backbone of structural planting: great big squares of box – 'I've always loved box in squares, long before Christopher Bradley-Hole did it at Chelsea,' she says with a twinkle in her eye – and a bold peppering of big-leaved, exotic plants that give the garden a distinctly contemporary feel. The bottom right corner of the garden is planted with Geranium 'Patricia' and a multi-stemmed Catalpa x erubescens 'Purpurea', which is perfect for small gardens if pruned every year.

If you have a tiny garden, create a snug corner that features tiling and pretty textiles – then everybody will be too cosy to notice its diminutive size. Bonus points if you frame the hideout with a beautiful arch.

'The owner of this garden loves the simple generosity and glowing fowers of the Plumbago family. Here, Plumbago Auriculata has been trained over an arch in the riad to frame a view of the beautifully painted niche, which makes the perfect hideout on hot afternoons. Inticately patterned tiling decorates the interior of the alcove seating area.'

– Extract taken from 'Gardens of Marrakesh' by Angelica Gray. Photographs by Alessio Mei. Published by Frances Lincoln at £14.99 in paperback.

Drama is created in a simple linking passageway at Riad Madani with a brooding shade of magenta plaster twinned with the green tiled floor. Potted bananas interspersed with young Philodendron Bipinnatidum add hot tropical notes.

Extract taken from 'Gardens of Marrakesh' by Angelica Gray, Photographs by Alessio Mei, Published by Frances Lincoln at £14.99 in paperback

In this city garden designed by Adolfo Harrison Gardens, the long roof terrace has been laid out so you can sit immersed within the planting whilst facing the extraordinary city views. Planting and slatted screens have been installed to act as a shelter from the wind, whilst a water feature disguises the hum of the traffic below.

A small vegetable garden sits in front of the guest house at this elegant Georgian home in Oxfordshire. The guest house was the conversion of a former garage behind the house, which means that friends who come to stay can be independent.

Mirror Mirror – Garden Design Ideas

Mirrors on the back wall of this garden in Kensington make the space feel larger. Designed by Richard Miers Garden Design, the garden is split across two levels, creating a cosy seating spot within a beautifully planted area, where flowers bring colour and fragrance to the space.

French doors lead to a paved outdoor seating area at London home of architect and designer Giles Vincent.

The Los Angeles garden of interior designer Michael S Smith is a lesson in modernism. The minimalist scheme is clean and simple with just a few well chosen and perfectly placed sculptures providing visual interest. It's an idea that can be scaled down to even the smallest of gardens.

We've already told you paper lanterns are the new fairy lights, so take them outdoors and create an instant party atmosphere (just check the weather forecast for unwanted rain showers first).

Adding soft furnishings to your outside space can bring even the most miniscule garden to life. Whether it be colourful rugs, bright cushions or strips of fabrics streaming from the trees, colour makes a small space seem all the more inviting, and adds a fun element for a party.

This elegant sunroom is an addition to a Wiltshire farmhouse, standing in its own paved area with a collection of pots and lush flowerbeds.

Full-length bi-fold doors create a seamless meeting of the interior and exterior at this nineteenth-century Kensington townhouse and using similarly toned flooring adds to this continuous effect – a clever trick with colour that creates the illusion of space.

If your urban garden is the tiniest of balconies, do not despair. Embrace the pot plant (you could even grow your own herbs), choose a pretty fold-up café-style table and chairs and make a feature of your railings with entwining vines. Voila! A green oasis a few floors up.

Symmetry will always be visually appealing, and the lines of this Notting Hill garden beautifully mirror the curved elements of the house. An undulating glass conversatory which leads on to a garden for entertaining, and a target-shaped combination of paving slabs and bricks focuses the eye to the central dining space. A similarly symmetrical scheme would work well in a much smaller space: just like in the home, maintaining order avoids the sense of an overly cluttered space and creates a feeling of calm.

Consider a colour scheme. According to garden designer Marcus Barnett, colour can be used to blur the boundary between inside and outside, creating a sense of space. Similar colours can form a visual link between interior and exterior.

Lighting is the simplest way to create mood in a garden. A few hurricane lanterns or tea lights hung from a tree can add instant romance to a summer's evening.

This Kensington property was given a modern interior refurbishment and the garden was designed to reflect this. Formal lines were combined with contemporary materials like glass and stainless steel, and for a low-maintenance lawn, grass was replaced with artificial turf.

Having a small garden doesn't mean you can't make use of the space. onefinestay's East 51st Townhouse owners has used atmospheric lanterns and delicate fairy lights to create a cosy dining area.

Water features can soften a garden scheme and create a sense of space in a small area by reflecting light. Running water can also muffle intrusive ambient sound, making it a clever addition to an urban home. This garden was designed by Marcus Barnett for RHS Chelsea Flower Show 2015.